Lightning counter calibrator, easy to operate, safe, press the test button to automatically complete the charge and discharge process.

Lightning counter calibrator use note:

1, please charge before use, in order to ensure the charging effect and extend battery life, you need to use a dedicated charger. It takes about 3-4 hours until the empty battery is fully charged. The red light on the charger indicates that it is charging.

2, according to the counter installation height, properly pull out the telescopic discharge rod.

3, specially equipped with a grounding wire, one end of the plug into the checker tail jack, the other end of the clip to earth.

4, press the red button, turn on the high voltage for about 1 second, the indicator light (micro flash), you can gently click the counter and the arrester connection for testing.

5. After each click, the end of the discharge rod should leave the counter. If you need to repeat the test, do not release the button. When the indicator light flashes for 1-2 seconds, you can click the test again.

6, continuous test will cause the calibrator to heat, please pay attention to the appropriate clearance time. To reduce the failure and extend battery life.

7. The output of the verifier is divided into three levels: high, medium and low. It can be adjusted by the toggle switch of the head to adapt to test the counters of different types or brands.

8, if the button is still not flashing when the button is pressed for more than 3 seconds, it means that the battery needs to be charged.

9, checker do not disassemble. If the capacity of the battery pack drops significantly or the charging efficiency is too low, it needs to be replaced. Please purchase a dedicated battery pack from the factory.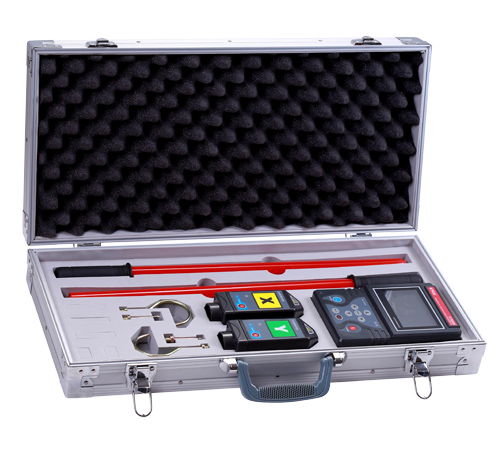 ZV Lightning Counter Calibrator Features:

1. Charge before use, in order to ensure the charging effect and extend the battery life, you need to use a dedicated charger. Empty battery to full Requires 3-4 hours, the red light on the charger that is charging; green light indicates that the charge is complete. Before use, plug in the ground cable plug at the end and the ground wire clamps the earth.

2. According to the counter installation height, pull out the telescopic discharge pole properly.

3. Press the red button, turn on the high voltage for about 1 second, the indicator light (micro flash), you can lightly click the counter and the arrester connection for testing.

4. After each click, the end of the discharge rod should leave the counter. If you need to repeat the test, you do not have to release the button. When the indicator light flashes again after 1-2 seconds, you can click the test again.

5. Continuous test will cause the tester to heat, please pay attention to the appropriate interval.

6. If the indicator light is still not flashing after pressing the button for more than 3 seconds, it means that the battery needs to be charged.

7. Do not disassemble the calibrator. If the battery capacity drops significantly or the charging efficiency is too low, you need to change. Please purchase a dedicated battery pack from the company.

Note: No part of the body can touch the electrode part when the indicator light is bright (micro-flashing), otherwise there is a danger of electric shock.

1.Application : For Motorcycle Accessories
2.Dimension: Customized dimension, OEM & ODM
3.Material: A6063, A6061, A3003 and other series alu alloy
4.Suface treatment: Anodizing, polishing, turning ,power coating, mill finish etc
5.Equipment: CNC ,extruding machine, cold drawn machine, heating oven, straightening machine, cutting machine


OD

OD Tolerance

ID

Tolerance

Roundness

Straightness

Circular

run-out

φ16-20

±0.02

±0.02

0.01↓

0.015↓

0.05↓

φ20-30

±0.02

±0.02

0.01↓

0.015↓

0.05↓

φ30-50

±0.05

±0.05

0.02↓

0.020↓

0.08↓

φ50-80

±0.15

±0.10

0.05↓

0.025↓

0.10↓

6. STANDARD PACKING:Wooden case/carton

7. Trade Terms
1. Payment: 30% T/T in advance, 70% balance pay before delivery. L/C at sight.
2. Delivery time: 20 days after deposit receiverd. If opening mould, plus 7-10 days.
3. Trade Term can be chosen depending on your requirements.
4. FOB Port: Shanghai


Seamless Tube For Motorcycle Accessories

Seamless Tube For Motorcycle Accessories,Motorcycle Parts Seamless Tube,Aluminum Seamless Tube For Motorcycle,Motorcycle Accessories Aluminum Tube

Changzhou YiFei Machinery Co., Ltd. , https://www.yifeialu.com