Model NO.: Strong Force Holding Rubber Mount Cup Magnet

Thread: External Thread; Internal Thread; Flat Thread

Trademark: YYMAG

Transport Package: Shielding Packing/Common Packing

Specification: 100pcs/carton; Carton size: 33x24x15cm

Origin: China

HS Code: 85051190

Strong Force Holding Rubber Mount Cup Magnet for Delicate Surface

 
Product name:
Strong Force Holding Rubber Mount Cup Magnet for Delicate Surface
Material:
Metal and neodymium magnet
Size:
D43-D88mm
Coating:
Ni,Zn,Cr,Rubber
Pull force:
5-42Kg
Handle screw thread:
M4, M5, M8
Applications:
Booth construction, store construction, interior work
Bath and kitchen design
Cabinetry, furniture construction
Metal construction
Machine and plant construction
Lighting industry
 

1. Pot magnets, also called Cup Magnets, Magnetic Holders or Magnet Hooks, are made of permanent magnet encased in a metal pot, and feature a hole, thread, boss or removable hook in centre of the magnets. The pot is an essential part of the magnetic circuit. the active magnet face is not enclosed. When Pot magnets hold any metal parts, the magnetic force in this circuit is stronger than that of alone magnet. It is the most efficient design for gripping, also provide an easy, non-destructive way to suspend objects or attach them to metal. 
 

2. Material:Â Outside is rubber inside is magnet and metal.

Magnet can be: NdFeB, Alnico, SmCo, Ferrite.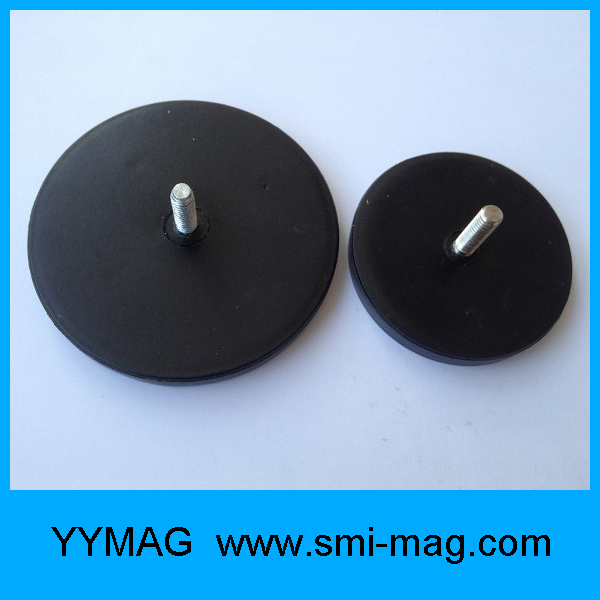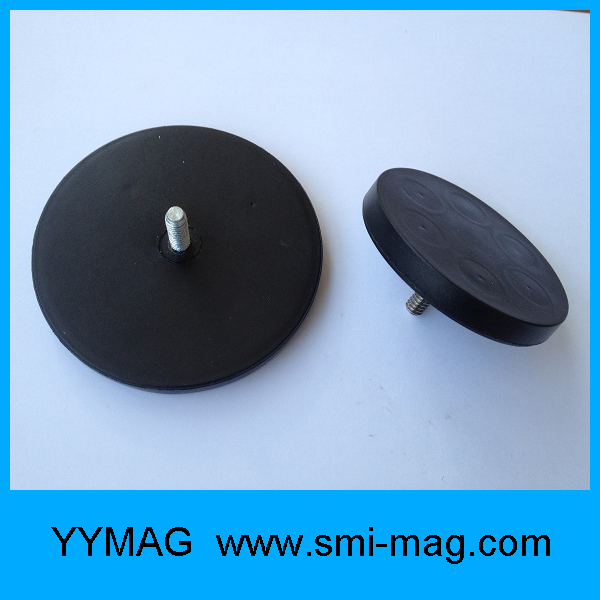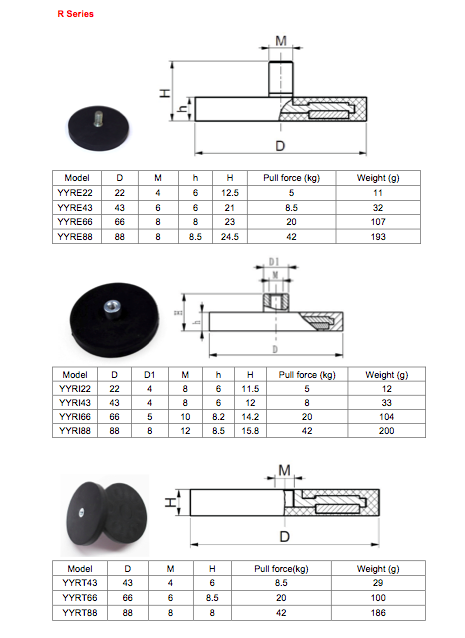 Hanging signs and lights
Fastening antennas
Holding tarps
Making retrieval tools
Holding through non-ferrous materials
Use for fastening or holding steel doors
Insertion into molds
Insertion into fixtures
For car roof signs



Packing

+By Air:Â If the goods will be shipped by air, all the magnetic should be degaussed and we will use Iron sheet to shield.
+By Sea:Â If the goods are will be shipped by sea, we will place a pallet on the bottom of cartons.

1:How long will you give me the reply?
we will reply you in 24Â hours.

 2:How about the quality of the magnets?
We have the certification of ISO, SGS, ROHS.

3:How is the price?
As we believe the quality is the most important, we will provide the high quality magnet with reasonable price.

4:Could I get samples?
Yes, we have materials in stock to help you to get the samples as soon as we can.

 5:How long will you deliver sample and bulk order?
If we have materials in our stock, we can send them within 3 days. If we don't have material in stock, production time for sample is 5-10 days, 15-25 days for bulk order.

6. How to pay you?
T/T, Western Union, L/C, Paypal.


Welcome to contact us!




 

Light strip is the abbreviation of LED light strip. Most people are not used to the term being too long when they say it, so they omit the previous LED and simply call it light strip. In this way, the name of the light strip also includes many old-fashioned light strips that directly connect LEDs with wires without FPC or PCB. Of course, it also includes flexible light strips and hard light strips.


1. It is soft and can curl at will.

2. It can be cut and extended.

3. The light bulb and the passage are completely covered in flexible plastic, with good insulation and waterproof functions, and use of insurance.

4. Strong weather resistance.

5. It is not easy to break and has a long service life.

6. It is easy to create graphics, text and other shapes; it has been widely used in construction, bridges, pathways, gardens, courtyards, stratum, flower boards, furniture, buses, lakes, underwater, posters, pink cards, signs, etc. Whitewash and illuminate.

LED light strip,LED light strip 5050,Light strip 5050

Dongguan XIGE Electronics Co., Ltd. , https://www.gdxige.com